Conferences Series LLC International Summit on "55th World Advanced Nursing and Nursing Practice Congress"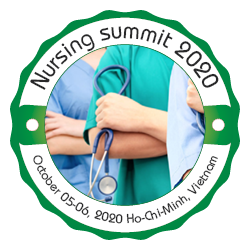 The "55th World Advanced Nursing and Nursing Practice Congress" hosted by conference series with the theme Innovating Advancement in Nursing was successfully executed March 13-15, 2018 Singapore City, Singapore. The conference offered a unique opportunity to investigators across the globe in order to meet, explore, network and perceive new scientific innovations. The conference received a commendable applaud and active participation was received from the Editorial Board Members of OMICS Group Journals as well as from the global scientists, Professors, Academicians, Researcher Scholars and students from diverse fields of Nursing and medical.
The conference was initiated with the Honorable presence of the Keynote forum. The list includes: Nurses perception of their managers leadership practices and relationship to quality of patient care, Karen Eisler, University of Regina, Canada the influence of labor and delivery experience on postpartum depression
Forthcoming Conferences on Global Meet on Nursing & Nursing Informatics Conference October 05-06, 2020 Ho-Chi-Minh, Vietnam
Conference Series welcomes you to "Global meet on Nursing and Nursing Informatics conference" during October 05-06, 2020 Ho-Chi-Minh, Vietnam. Nursing summit 2020 conference in Tokyo is one of the largest international meetings on advanced practice nursing. With more than 100 advanced practice nurses such as nurse practitioners, clinical nurse specialists, nurse anesthetists, nurse midwives, and nurse consultants, along with researchers, educators, administrators, policy makers and students expected to attend the conference. Nursing summit 2020 conference promises to be an exciting and rewarding opportunity to learn together. Nursing summit 2020 Named as "Year of the Nurse" Endorsed by World Health Organization (W.H.O) in recognition of Florence Nightingale's 200th birthday. Our conference theme is "Advanced innovations in Nursing and Nursing Informatics". We are honored to host high-profile keynote speakers from around the world as well as many concurrent oral and poster presentations on key health issues and advances in healthcare from conference participants. Nursing summit 2020 is one of the Nursing meetings which will be visited by all the prestigious Nurses, Nurse Practitioner, Registered Nurses, postgraduates, affiliations, Healthcare Doctors, and Healthcare specialists under a solitary rooftop. Nursing summit 2020 will help in frameworks organization, B2B teaming up amidst specialists and academicians. We have dealt with various compelling Nursing events and Healthcare gatherings and develop incredible relations bringing the researchers and associations together. Conference Series LLC Ltd deals with a meeting course of action of 1000+ Global Events thorough of 300+ Conferences, 500+ Upcoming and Previous Symposiums and Workshops in USA, Europe and Asia with sponsorship from 1000 more sensible social requests and disseminates 700+ Open get to journals which contains more than 30000 unmistakable personalities, reputed specialists as article board people.
Key Figures of NURSING SUMMIT 2020`| Ho-Chi-Minh
This international conference provides the opportunity for clinicians, scientists, doctors and researchers from all over the world to gather and learn the latest advances in the field of herbal Medicine and healthcare and to exchange scientific ideas and experiences in a distinctive environment.
2 days of scientific exchange
200+ abstracts submitted
30+ scientific sessions
80+ international expert faculty members
100+ healthcare professionals
Why to attend?
11th International Conference on Herbal therapy and Acupuncture to be held on July 13-14, 2020 in Sydney, Australia is going to be the biggest conference for Herbals & Traditional Medicine community. It affords a methodological opportunity for knowing about the latest and advanced research and development. Conference contain finest topics like various healthcare from all over the world with industries and panel. Herbal Therapy 2020 expects many of delegates together with worldwide keynote speaker and oral presentations by renowned speakers and YRF. Poster presentations by delegates and students all around the world which can create a platform for global progression of safe and effective natural remedies. It provides networking and opportunities for collaborations with worldwide and industries and companies.
Best Regards
Jach Harry | Program Manager
NURSING SUMMIT 2020`|
WhatsApp: + 441797290013
Email Id: nursinginformatics@asia-meetings.co
---